The topic this week at
The Broke and the Bookish
for Top Ten Tuesday:
Top Ten Books I'd Give To Readers Who Have Never Read Mysteries
only each blogger fills in the genre they like to read. Mysteries are my go-to favourite reads.
Nearly all of the books suggested here are from ongoing series, and I tried to pick the first in the series. Series like these always get better, and while individual books are good, it's the ongoing development of characters
that really impresses.
I tried to divide them into categories, and I left out so many! No Scandi-crime here, no intense thrillers, no cosy mysteries, no American present day; so many other countries and historical time-periods have been omitted. But these are some really good books, that happen to be mysteries.
Classic Mysteries:
Murder on the Orient Express by Agatha Christie
The Big Sleep by Raymond Chandler
Historical Mysteries:
Maisie Dobbs by Jacqueline Winspear (England, after WWI)
Mistress of the Art of Death by Ariana Franklin (12th century England)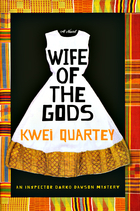 African Mysteries
Thirteen Hours by Deon Myers (South Africa)
Wife of the Gods by Kwai Quartey (Ghana)
Police Procedurals
87th Precinct series by Ed McBain (New York City)
Inspector Montalbano series by Andrea Camilleri (Sicily, Italy)
Favorite Female Authors
Case Histories by Kate Atkinson (England)
The Likeness by Tana French (Ireland)