Top Ten Tuesday is hosted by
The Broke and the Bookish
. The topic this week: Books from My Childhood That I Would Love to Revisit. Some of these are cheats, because I have revisited them, and I've watched my children read this (and generally love them as well). Some are classics, but some are little known scholastic books from the monthly book order in elementary school. The book orders were really a highlight - rationing my allowance to get a book, poring over the descriptions to decide which book to get, and then when the order came in - waiting for my book.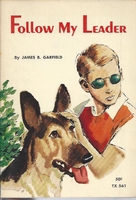 Follow My Leader
by James B Garfield
A young boy is blinded playing with firecrackers, and learns to be independent with the help of a guide dog. My kids have all read my original edition.
My Mother Made Me!
by Sharon Brain
Four girls try to protest against their mothers signing them up to play hockey. They run away, in the summer, to the local rink and hide out their, ironically, playing a form of hockey to keep themselves amused. I really remember them and the bats in the rink.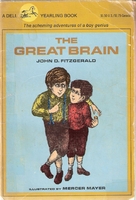 The Great Brain
by John D Fitzgerald
I must have read and reread this series more times than I can count. Such a fun, historic series. It was set in the same era as Anne of Green Gables, so I was familiar with local life at that time, but Utah in the late 1800s in a Mormon community was very different. Classic comedy books!
Why Me?
by John Branfield
It took me a long time to find out about this book which I reread a few times in elementary school. A young girl gets diabetes and it takes helping her dog, who also gets diabetes, for her to learn to look after herself and accept her diabetes. Apparently sometimes called Sugar Mice, I eventually found the name and author through a librarything group called Name That Book?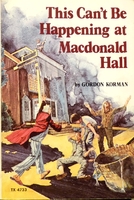 This Can't Be Happening At MacDonald Hall
by Gordon Korman
I was in grade five when the first of the prolific author Korman's first book was published. He wrote this as a school project when he was a teenager and I still can rememeber Mrs Adams laughing so hard as she tried to read aloud this book that she couldn't read at all. (the panty-raid at Miss Scrimmages!) Korman is still one of my favorite authors for this series, as well as the incredible stand-alone book, I Want to Go Home. It can't be a coincidence that the short story I wrote in grade 8 is very similar to Korman's books of humour and mistaken identity.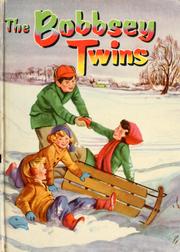 The Bobbsey Twins
by Laura Lee Hope
The Bobbsey Twins and the Doodlebug Mystery
by Laura Lee Hope
I was never much of a Hardy Boys or Nancy Drew reader. I read a few, but the series I really loved was the Bobbsey Twins. Nan and Bert, Freddie and Flossie - I couldn't get enough of those sets of twins. I even had an original, before the mystery series, edition book, which was just a story of their life. They had a black maid and her accent made me uncomfortable. I don't even know if this edition is still around. I'm pretty sure the mysteries from the 1970s were a cleaned up version, and probably not even written by Laura Lee Hope. We had a childhood friend who had nearly every book in the series. That row of purple books in her bed room was to die for.
The DoodleBug Mystery is one that I remember the best.
Free to Be, You and Me by Marlo Thomas
We had this as a hard cover, filled with all kinds of wonderful short stories, poems, songs, and cartoons. William Wants a Doll, The Pain and the Great One, and the notes back and forth between two friends negotiating for the girl to pitch on the baseball team.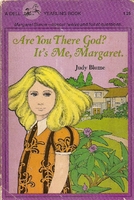 Are You There God? It's Me, Margaret by Judy Blume
I had a hard time deciding which Judy Blume book to pick, because really, Judy is the author of my pre-teens. Not so amazingly, she still rocks with the elementary set. My kids loved Fudge, and all the books about Fudge. She is as relevant as ever.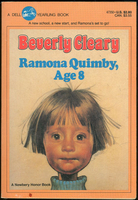 Ramona Quimby, Age 8 by Beverly Cleary
Another author who has not lost her mojo, Ramona books are still as popular as ever. While finding this cover, I discovered that Ms Cleary is still alive at 98! There needs to be a little more recognition of this great author. Henry Higgins, Ramona, and Socks are all characters I remember fondly.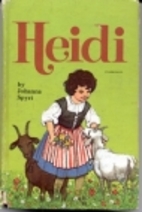 Heidi by Joanna Spryri
Essentially Anne of Green Gables in Switzerland, is it any wonder I loved this book too? I read this and the sequel and still want to go to Switzerland.
ETA: I knew I'd forget something - Enid Blyton! We had a bunch of her books, but The Faraway Tree is the one I read and reread. (I think it is called that. Cathy?) Everytime they went up in the tree, they went to a new land. Probably started my love of British books.