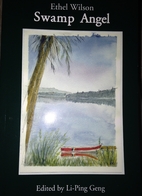 Swamp Angel by Ethel Wilson, 180 pages
first published in 1954
Our family online reading group (Facebook group) chose in a democratic vote Swamp Angel from the Canada Reads longlist. The theme for this years Canada Reads is starting over.
The main character makes a plan, and leaves her second husband who she married on a grief rebound after her husband and daughter died. Always interested in fishing, she ends up at a fishing lodge in the interior of British Columbia.
Before reading activity: If you had to begin to recreate your life, what geographical location would you select and what would you aspire to do there?
A little English village, and be a food historian
I would like to live in Manhattan and be a writer
I would like to live in Ireland and be a farmhand.
It's Ireland for me and I would love to own a pub in a little village..!!
Meanwhile, back in Vancouver, the left behind husband tries to find out what happened and where his wife left by checking with her friend and her mother. The mother used to be a rodeo cowboy and owns the titular 'Swamp Angel,' a gun. This part of the story, confused me a bit. While I really liked the mother and found her a great character, it introduced unneccesary suspense into the story as I kept thinking he was going to chase her down, or the gun would have more to do with the story than symbolic.
Artifacts of our lives. Share an image, description, or both, about an artifact you carry in your memory or in your present possessions that you value for some reason beyond its material value.
I
have a crib blanket my grandmother made for my brothers and me - it reminds me that when she had so little she still found ways to make things for u
s. I have her stemmed water glasses, purchased at woolworths 5 and 10 (like today's dollarama). She loved pretty things and couldn't afford much. They still aren't valuable but I love them. But the one thing I treasure the most is the enamelled box she gave me when I was young. I have kept it for nearly my whole life and have always filled it with memorabilia.
This bowl from the 70s became a staple in my childhood, adolescence, and adulthood. It represents my appetite for it gave me the volume needed to hold my cereal, my soup, my chicken broccoli, and my ground hamburger with onions and tomato soup. Knowing
this bowl has held my food for 30 years and the food of others much longer is surreal. The bowl symbolizes family and home for it is always there to hold what needs to be held
Just filled this baby up with some late night stew! It's the only survivor of the 3 piece wedding gift for mom and dad. I guess there was a green and white one as well.

Ultimately, once I realized not to be concerned, the story was a gentle one. Bringing her peacefulness, Maggie is just so happy to be living a life on her own terms. She is smart, helpful, and a hard worker - a strong character. The owner of the fishing lodge needs a lot of help, and Maggie has the plans and determination to make it a success. His bitter wife cannot deal with Maggie and her lack of ulterior motives.
A nice theme of being kind, and having good things happen.
Slight complaint: my edition is a 'critical edition' which was full of footnotes. Not interesting footnotes, but only footnotes detailing which punctuation had been in the manuscript, or in different editions. A writer many find the comma choice fascinating, but alas, I did not. It may also be an interesting activity for an editor. Totally distracting to the reader. And then! there were actual typos in the text! [On the bus,] She sat next to the widow. It was actually the window. Now that changes the story!