100 Sideways Miles
- Andrew Smith (audiobook from YA Sync)
This was a cute little coming of age young adult novel. Finn, the narrator, measures time in distance, as in the distance the earth has travelled. The physics in me liked this little quirk. He also has epilepsy, and is dealing with teenage stuff - parents, wants a girl friend, has a cool friend who pushes him into doing things he doesn't really want but actually does. Mostly realistic fiction, but perhaps a bit far-fetched, I still enjoyed listening to this one.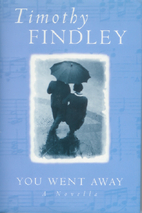 You Went Away - Timothy Findley (220 pages)
Written in 1996 but set during WW2, this Canadian novel looks at a family on the homefront. The idea behind the story is a box a found photographs, and the piecing together of the lives behind the pictures. The family consists of a husband whose brother died a hero in WW1, a wife and their two children. The husband joins and hopes to earn his mother's love, but things fall apart with his boozing and womanizing once he realizes he isn't going to be flying planes like a hero. The wife tries to keep things together and his young son reaches the age where he sees his parents as people, flawed people. It's a quiet story, sad lives.
The Cuckoo's Calling - Robert Galbraith (464 pages)
What fun to find a great new series to follow! Cormoran Strike, the PI and Robin his 'temporary' secretary are wonderful characters; a good series, while needing an intricate mystery, mostly needs main characters you like and want to cheer for. I liked Cormoran, but I really liked Robin! She lands this temporary job for a down on his luck PI, (do any PIs have their life together?) and it turns out to have been her secret perfect job. She tries to make herself indispensable while Cormoran deals with his break-up and subtly lives in his office. The actual mystery was good - famous, adopted model falls to her death in an apparent suicide that her lawyer brother asks to have investigated. Lots of red herrings, but it felt solvable with the clues. I'll be looking for The Silkworm sooner rather than later.