This week's topic for Top Ten Tuesday, hosted by
The Broke and the Bookish
, is books you'd recommend with a particular setting, your choice. I thought about beach books, but since I feel any book is a beach book if you read it on the beach, my choices seemed limitless! I've decided to focus on the Maritimes, but not include my PEI. So, Nova Scotia and New Brunswick based books. (Newfoundland is not considered part of the Maritimes; the four together are called the Atlantic provinces.)
I only picked books I have read and that I liked, a lot.
NEW BRUNSWICK: (poor NB, not so many books as the rest of the Atlantic Provinces, but these are really good)
The Nine Lives of Charlotte Taylor by Sally Armstrong
Almost not fiction, Armstrong wrote this biography of her great-grandmother but because she built a narrative around the facts and legends, it is fiction. American pioneers have been written about over and over, but life in the backwoods of New Brunswick was very tough. This is a really well done, exciting historical book, and Charlotte Taylor was an amazing woman.
Mercy Among the Children by David Adams Richards
One of my favourite books, this would be a great book club book, with lots of discussion about the main character and the decisions he made. After an incident in his youth, he vows to always turn the other cheek. Is he a coward for never standing up for himself?
A Neighbourly War by Robert L Dallison
Vol 7 of New Brunswick Military Heritage Series
It's not that this book is anything tremendous, but it represents the local history books that are written and published by local presses. I read mostly all fiction, but history books contain so much information and it is wonderful that the books get written. It made me want to look up more of the NB Military Heritage books at my library. There is one about the American Revolution, and one about War brides that look good.
NOVA SCOTIA: (So many books set in NS, it probably thinks this post is about it)
The Lost Salt Gift of Blood by Alistair MacLeod
Short stories that are just. so. good at capturing that Maritime flavour. Plus, this will lead you to other books by MacLeod, like No Great Mischief, or his son Alexander's books.
Before Green Gables by Budge Wilson
Sneaky of me, getting Anne in here by way of Nova Scotia, but that is how she ended up on PEI, just like me! Wilson was given permission to write this prequel to Anne of Green Gables, and this is not a happy, cheerful book. In fact, my sobbing at the end was because I knew Anne was headed to Marilla and Matthew, and was so happy for her, knowing what was coming, after the terrible beginning she had. Wilson does an admirable job building on the clues Maud wrote.
The Birth House by Ami McKay
Here's a very well known book set on the south shore of Nova Scotia, about a mid-wife. I read this early years of blogging and I know I liked it, good historical fiction, but I really can't remember much. Weird names?
The Bishop's Man by Linden MacIntyre
Before I read this book I only knew MacIntyre as an investigative reporter for CBC. He won the Giller prize with this well done book about abuse withing the church, within Cape Breton. Great characterization and setting. I've always meant to read another MacIntyre book.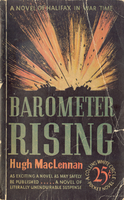 Barometer Rising by Hugh MacLennan
Every December 6th, the people of NS send a giant Christmas tree to Boston in remembrance and thanks for their help during the Halifax explosion of 1917. This is a great easy read that will have you on the edge of your seat and then send you out looking for some more information about the worst man-made explosion, only eclipsed by atomic bombs. This is an oldie but a goodie.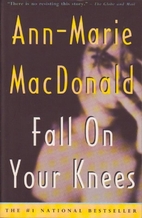 Fall on Your Knees by Ann-Marie MacDonald
Probably the best known of all these books, Fall On Your Knees was an Oprah pick early on in O's book club phenomenom. Again, I know I liked it, but not loved it back in the day.
On South Mountain by David Cruise and Alison Griffiths
This non-fiction book is set in the Annapolis Valley and investigates how the Golers happened. The Golers were a mountain clan, very poor, and isolated and insular with generations of abuse and incest. It wasn't until the 1980s that the abuse came to light. I remember seeing and hearing about the Golers on TV when in high school, and 'the Golers' was a common insult for people my age to throw around. Not after reading the book. There was nothing funny about this story; it is horrifying and reprehensible and embarrassing that the clans were allowed to continue, because you see, people knew. Doctors, police, and officials all knew and just excused it as 'mountain folk'.
This book is probably a little obscure, but Lauren B Davis has written a fictional book, Our Daily Bread, based on the Goler family that may be easier to find. Not easy reading by any means, but until we know our past...