The topic this week is New to Me Authors from 2018. This was a fun list to put together, remembering all the good books I read, and which ones I still want to read.
The sign of a great New to Me Author is how quickly I read or plan to read another by them.
This list definitely wins. Top Ten Tuesday is hosted by That Artsy Reader and is fun to participate in. Check out her site for the next prompts.
Sing, Unburied Sing - Jesmyn Ward (audiobook)
I'm interested in reading her Salvage the Bones next, but probably as an audiobook, because the accents of Mississippi really made this a great experience.
Big Little Lies - Liane Moriarty (audiobook)
I've already read Truly Madly Guilty since I inhaled Big Little Lies, and I am #1 on the list to get Moriarty's latest book, Nine Perfect Strangers. I can't wait.
Then She Was Gone - Lisa Jewell (audiobook)
This was a very good suspenseful read, and I'm pleased to see she has many other novels.
Crooked Heart - Lissa Evans
I loved Crooked Heart, and I've already ordered an older book of Evans', Their Finest, which was an Orange nominated longlisted book from 2009.
The Dry - Jane Harper (audiobook)
First in an Australian police series, I've already read book #2, Force of Nature. I'm even willing to try her new stand alone, The Lost Man, though I will miss Aaron Falk from the series.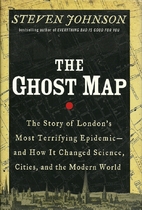 The Ghost Map: The Story of London's Most Terrifying Epidemic - and How It Changed Science, Cities, and the Modern World - Steven Johnson
Fabulous nonfiction book, and I was so pleased to see my library carries several other of his books in audiobook format. Everything Bad is Good for You, The Invention of Air, How We Got to Now. I like his science based ideas with a popular spin.
The Unquiet Bones - Mel Starr
I found a new historical fiction series, Hugh de Singleton, Surgeon set in 1300s England. I've already read the first three, and there are eleven written. I love finding a established series that aren't too long (most have been around 250 pages long) but there are a managable number in the series.
The Vanishing Act of Esme Lennox - Maggie O'Farrell
I quite enjoyed this novel of sisters in Scotland, taking place in two time periods. I liked it so much I found O'Farrell's most recent book, I Am I Am I Am: Seventeen Brushes With Death that I really loved.
Christmas on the Island - Jenny Colgan
Reading the fourth book in a series and enjoying it is a remarkable feat. Even though I didn't know all the back stories or the characters, Christmas on the Island was well done and stood on its own. I'm looking at going back and reading the first few books. Colgan puts me to mind of Maeve Binchy. Her characters are real and developed, nothing too crazy or shocking happens, but a pleasant time is had with the story.
To All the Boys I've Loved Before - Jenny Han (ebook)
Easy reading young adult book about sisters and boyfriends and growing up. I haven't seen the Netflix movie yet, but I did request the next book, PS I Still Love You, because I really enjoyed the young couple and how they grew to like each ot

her, after pretending to date for a while.