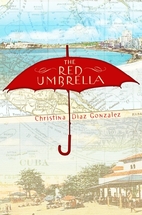 The Red Umbrella by Christina Diaz Gonzalez (audiobook)
This was a nice little find from YA Sync! Set during the Cuban Revolution, it follows a fourteen year old girl, Lucia, as life as she knew it changes forever. Early 1961, Castro is just beginning to make changes and Lucia's parents are concerned, but it doesn't really affect Lucia. Her friends are starting to join the young brigade, but they are still interested in trying to wear make-up and meeting boys. When Lucia sees someone hung in a tree her understanding of the revolution changes. (Only real violent scene, along with a bad *kissing scene with the guy she likes)
Because of these first scenes, I though the book would be darker but once Lucia and her brother get out of Cuba, things go very well. A lovely family fostered them, they fit in quite well in Nebraska, and it becomes all quite predictable. But, I really liked the predictability because I wanted things to work out well for Lucia and her brother!
I'm not sure why some predictable books are okay while others are annoying. It could be my mood, or it could be something about the writing that transcends stereotypes. The writer creates characters with a little more depth. The topic of the Cuban Revolution was unique and I found that information enlightening, and then the characters were layered.
If I Run by Terri Broadstock (audiobook)
This one has tons of great reviews at Librarything and Goodreads, but... It is a suspenseful, girl on the run, told from two points of view, and it should have been in my wheelhouse. However, early on I became cynical and then once I started nit-picking, I could find plot holes to drive a truck through. So, this was an example of predictablity that didn't work for me.
(I was also disappointed that it ended on cliff-hanger as there is a second book, If I'm Found. Books can be part of a series and have a sense of conclusion in each part)
There were strong Christian overtones as the main character struggled with her faith and would ask people she met about their faith. Oh, and she was perfect. Like unbelievably perfect (except for her lack of faith, but she leads a Christian life, saving and helping everyone she comes in contact with). I'm not anti-Christian but I didn't enjoy this aspect of the book. (Apparently the text version has a letter from the author that is very anti Planned Parenthood, which I'm glad I didn't have to read.)
The mystery/conspiracy theory was not terrible, but as I started questioning, it fell apart for me. My sister was also listening to it, and she was quite enjoying it and finding it suspenseful, unless I ruined it for her, lol. So, there is an audience for this book, but I am not it.
I won't need to read the second book.