December wasn't the best reading month for me at all - I only got through 2 books and 2 very short audiobooks. Here's a little summary of what got what:
The Hobbit - JRR Tolkien DNF
I really thought I might get through this book when it was picked for my book club this month - it's published as a children's book with larger font, but alas, it didn't not work. (It was probably our least discussed book - two of us didn't finish, one had read it years ago and didn't reread, one read it all, and the other gal didn't make it to the meeting) After 2 weeks of reading, I was still only half way through and couldn't care less what else happened to poor Bilbo Baggins. I can recognize the influences this may have had on other books, like Harry Potter, but it wasn't worth my time over the Christmas season.
A Christmas Beginning
- Anne Perry (audiobook) (in November)
A Christmas Visitor - Anne Perry (audiobook)
A Christmas Grace - Anne Perry (audiobook)
Each of these audiobooks are stand-alone Christmas books about 3 to 4 hours long. They feature minor characters from Perry's successful mystery series , Monk and Thomas Pitt, placed in new villages or towns for the season. It's a neat concept because these characters have never had much of a back story in some cases, and it allows Perry to take the familiar and build a whole world. There are 12 books in this series now - I think she publishes a new one each Christmas. I couldn't tell you what exactly happened in each but they made an easy story to listen to in the car for minutes at a time.
A Royal Flush - Rhys Bowen
This is turning into a fun little series. Everyone heads up to Scotland and it looks like someone is trying to bump off members of the royal family. The queen is still trying to separate her son and 'that woman,' Mrs Simpson. Georgie is continually caught in the middle of things, brings in her lower class grandfather, trying to avoid getting married, and running into Darcy O'Mara. Nothing too deep, nice back-glance at historic events. I'll keep reading.
A Royal Pain - Rhys Bowen
Read this one in November - more of amusing same.
Station Eleven - Emily St. John Mandel
The best book of the month. I guess it is considered apocalyptic, what with most of the population of the world dying from a crazily infectious flu. The style is unique, a back and forth in time with eventually all parts leading up to the same point. The book starts with an actor dying on stage just before the plague occurs, (in Toronto, just like SARS) and then follows the assorted people associated with the actor as the flu spreads, and then in the future. Lots of Shakespeare references, from the opening play of Hamlet, to the traveling orchestra and theatre troupe navigating the abandoned roads performing Shakespeare as it was originally done. I was a little disappointed at the ending as not all the characters interacted as I would have liked to see. Part of the reason why this may been so popular is its slightly optimistic outlook of a grim future - this is no The Road. There are some dangerous people running around, but for the most part, people are just surviving.
I didn't get any books for Christmas this year, but I do have an Indigo gift card I'm dithering about what to get.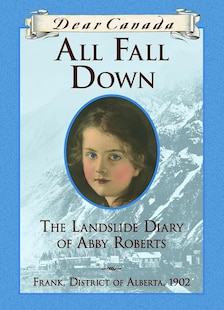 I didn't buy many books this Christmas.

Youngest daughter likes the Dear Canada Diary books, and gave me a list of ones she has already read but noted that she likes "the ones with adventure or disaster types, not boring ones about Confederation or someone moves here." Noted. I got Dear Canada: All Fall Down. The Landslide Diary of Amy Roberts. I think it was sufficiently disasterly. I also think it is the same landslide that was a central plot in the wonderful The Outlander by Gil Adams. I had bought the most recent Diary of a Wimpy Kid book, but when discussing before Christmas I misunderstood her and thought she already had it, so left it in my room to be returned. A few days after Christmas she mentioned that she didn't have it. Belated Christmas gift! I can't tell you how many times my procrastination was rewarded this Christmas. I'll never improve.
The other book news from Christmas was the beginning of a family book club. At one of those wonderful extended family gatherings (a Jersey party: we all wear hockey jerseys, eat great food, and watch a World Junior game - how Canadian are we?) it eventually ended up my sister and two of our younger cousins sitting together talking, as it often does. The 2 boys are like the younger brothers that we never had, and we are all kindred spirits. During this chat we were updating what books we've read, what movies and shows we've seen and someone mentioned how we should read a book on line together. Awesome idea! A private FB page was set up with all the readers in the family (cousins, aunts, uncles,etc) and we voted on a book from the Canada Reads nomination list. We have until March to get our book and then discuss it. Facebook such a great way for families to stay in touch (we have another private family page for pictures and news and chirping. Lots of chirping.) and discuss a book as we are spread out over Canada. I'm very excited about this new book club.