Week 3:
(Nov 14 – 18) – (
Sarah
)
Book Pairing:
T
his week, pair up a nonfiction book with a fiction title. It can be a "If you loved this book, read this!" or just two titles that you think would go well together. Maybe it's a historical novel and you'd like to get the real history by reading a nonfiction version of the story.
Here are two books I listened to this year that have Russia in common. I haven't read many books set in Russia, but they ones I have always make me realize that Russia is a very different country. So different. I read a lot of books from a British/North American background which informs my life experiences. Even books set in Africa are more relatable for me, which may be due to colonial influences.
But Russian books, and this started for me with Edward Rutherford's Russka, and the people depicted are just foreign. Obviously, the more I read the less different they seem, but it always stands out to me.
Both books (and probably all Russian books) deal with the Communist regime, and the fall out from those policies. The level of totalitarism needed to maintain the government provides so much content - both fiction and nonfiction.
Symphony for the City of the Dead:
Dmitri Shostakovich and the Siege of Leningrad
- MT Anderson (YA Sync audiobook)
Most WW2 books I've read are set in France during the Occupation, or maybe London during the Blitz (I've read a lot of those!) so reading about the long three years when the Germans and the Russians were frozen in Leningrad was eye-opening.
The book tells the story of a famous composer, Shostakovich and his love of Russia and the Russian people. He wrote commissioned songs for the government, but he also tried to appeal to the people. He was beloved by common Russians.
The stories of how people survived (or didn't) during the siege are horrific. Starvation is not pretty, and of course, as I learned watching Titantic, there are many ways to die in a disaster.
Telling the story of the siege through one famous person's experience was a nice personal touch to make the history come to life.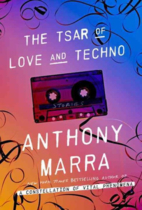 The Tsar of Love and Techno - Anthony Marra (audiobook)
I listened to this back in March and quite enjoyed it. I am partial to short stories, and this book was even better - short stories that are connected, but you don't realize they are connected until all of a sudden, a character shows up that you've already met. I realized it was going to be that kind of book. Awesome.
The timeline is from 1930s Leningrad all the way through to present day, with much of it in Chechyna and covering some war times. Generations dealing with the years of KGB and Lenin and Stalin.
Also, isn't the cover pretty?
(I copied the following summary of the stories from LT to help me remember this book)
An artist responsible for removing people from history.
Two ballerinas separated by a generation.
A quietly defiant man in love with a scarred and blind woman.
Two Russian prisoners of war.
Two young brothers living in a forest of metal.
A woman who was responsible for the execution of her own mother.
Young men seeking to avoid the war, and a father who will save his son by any means.
These are the characters that make up these stories.