Some times you get in a little run of great books. My problem is I read them too fast because I am so engaged in them, that I don't get to prolong the experience. These three were all pretty covers and fabulous reads!
Big Little Lies by Liane Moriarty, 15 h 56 min
narrated by Caroline Lee
Usually when I see an audiobook that is 15 parts long, I shy away. For some reason, probably knowing the TV show (I haven't seen though) is supposed to be very good, I gave it a try. I burned through this book in probably 3-4 days - I could not stop listening! Such a great story - funny, topical, suspenseful, and great characters. The three main characters were strong women. The back and forth, before and after an unknown crime has occurred, the comments by community members was just so well done. I'll be looking for more Moriarty novels in the very near future. Fun, fun read!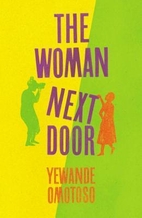 The Woman Next Door by Yewande Omotoso, 288 pages
Bailey's Women's Prize for Fiction 2017
Two cranky neighbours, each unhappy in their own ways, are forced to get along. Sounds pretty usual, but setting the book in South Africa with a white and black neighbour adds a few more layers. Besides the apartheid background, the novel focuses on the marriages and expectations the women had for their lives. Easy to read with characters that while not likable, are understandable. As the layers peel back, much of their motivations come clear. Solid, enjoyable read, it's the kind of under-the-radar book I like passing on to friends.
The Immortal Life of Henrietta Lacks by Rebecca Skloot, 12 h 31 min
narrated by Cassandra Campbell
I loved this book the first time I read it eight years ago. I don't often re-read the books my book club picks, but I knew the audio version was raved about as an example of a great audiobook (Cassandra Campbell as narrator explains this!) so I decided to listen. Again, such a great book. So frustrating to see how ignored her family was, and how hard they tried to get their mother some recognition. Actually, all her poor family really wanted was some health care. (Get your act together US republicans, it's not that hard) Skloot does a wonderful job of getting to know the family and while she's been criticized for inserting herself in the story, it makes the reader feel like they are with her, discovering this great injustice.