I'm a little tardy, but I did want to post my Top Ten New Authors from last year. Obviously, if I read a second book in the same year, the author impressed me.
Richard Osman - Thursday Murder Club, The Man Who Died Twice
Best new start to a mystery series with so much humour and twists and turns. The follow up was just as good. More please!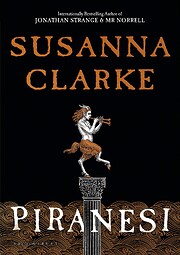 Susanna Clarke - Piranesi
Clarke has some pretty well-known books but Piranesi was my first. I found it a fascinating book, and her world building was amazing. Johnathan Strange and Mister Norell, and the Ladies of Grace Adieu.
Silver Donald Cameron - Blood in the Water
Nonfiction Maritime mystery was done really well. I'm not sure what else Silver Donald Cameron has written, but I liked his style.
Laura McHugh - The Wolf Wants In
Just a good solid read set in the midwest, I wouldn't call it a mystery, but there was a mystery.
Helene Tursten - An Elderly Lady is Up to No Good
This was fun, and I started this year with the sequel, An Elderly Lady Must Not Be Crossed. I'd really like to read Tursten's series with the detective who investigates the Elderly Lady.
Karen McManus - One of Us is Lying
Fun YA suspense mystery. McManus has written several more of this type, and they are like a bowl of jellybeans you have to devour.
Brenda Chapman - Cold Mourning
This was the start of a Canadian police series and I'd read another.
Alka Joshi - The Henna Artist, The Secret Keep of Jaipur
Liked the first one, and read the sequel pretty soon after. Good historical fiction.
Claire Fuller - Unsettled Ground