I've been doing quite well in some ongoing series this year. Here's two lighter mysteries, starring those plucky British ladies of the 1930s, Maisie Dobbs and Her Royal Spyness.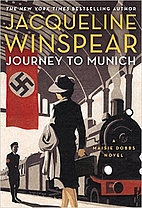 Maisie Dobbs series by Jacqueline Winspear
#12 Journey to Munich (audiobook)
#13 In This Grave Hour
I wasn't happy with the Maisie series after book 11. It essentially reset the series and now instead of dealing with effects of WW1, Maisie is becoming involved in the beginning of WW2, moving on and leaving a large number of previous characters just home in England.
I listened to Journey to Munich, and it wasn't as compelling to me as some of the other books. I'm not convinced I'm liking this new reset.
In This Grave Hour brings Maisie back to the best parts of the series. Billy and Sandra at the office, with small stories for them, Frankie and Brenda (Maisie's dad and step-mom) butting into her life, The Compton's and their estate, and Maisie's friend Priscilla Partridge and her boys. There is a mystery going on which dates back to WW1, while WW2 has just been declared. Maisie is showing some interest in Richard Stratton (who sounds like he is working at Bletchley Park). It's all the good stuff about Maisie mysteries that has been missing in the previous two books. I'm pleased with the return!
Royal Spyness by Rhys Bowen
#8 Queen of Hearts
#9 Malice at the Palace
#10 Crowned and Dangerous
Georgianna Rannoch, 34th in line to the throne and smitten with Darcy O'Mara, keeps getting in scrapes and finding dead people. These cozy mysteries are one of the few cozies that I enjoy. I usually prefer my mysteries as crime, with detectives investigating. There is something fun about this 1930s-era stories as Georgie runs in the royal circles, being as rude as she is able to Mrs Wallace, and dealing with her wayward maid, Queenie.
Nothing in particular about any of these mystery stories, but the back stories of Georgie's friend Belinda, Darcy becoming much more attentive, her kind brother and her mean sister-in-law keep each new book interesting.
I started this series in late 2014, and now am up to date, and waiting for the next book,
On Her Majesty's Frightfully Secret Service, expected in August 2017.