Winter has arrived far too early here on PEI. We have already had several storm days with school being cancelled and the storm last week had power out across the Island for up to a few days. We were lucky and had it back after ten hours, but it was the first big power outage we've experienced in many years. It looks like the snow is here for good, which is pretty much a month earlier than usual.
As a result of the snow days and the weather, I'm in a Christmas mood already. During the snow day last week, I got Christmas decorating done around the house - very much a record. It's usually been a goal, but never achieved. We had a family Christmas dinner with my aunts and uncles and cousins that live on PEI. We eat out at a nice restaurant and enjoy visiting. Shopping has begun and the Virtual Advent Tour is in full swing. (It's not too late to sign up and join in the fun - go see sprite writes)
The topic this week is Cozy/Wintry Reads, which to me this week, is Christmas reads. I've already read a few - two Anne Perry Christmas novellas, and An Alaskan Holiday by Debbie Macomber. It was my first Macomber, and probably my last. Are they always this corny and ridiculous? At least I learned all those Debbie Macomber books can be avoided, which decreases the potential books in the world to read by several hundred, lol.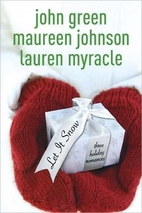 Let It Snow by John Green, Maureen Johnson and Lauren Myracle
Delightful collection of interlocked short stories written by top YA authors, set at Christmas.
Dash and Lily's Book of Dares by Rachel Cohn and David Levithan
Two loner kids meet over the Christmas holidays in New York. I've always loved this cover, and discovered The Strand, a goal if I ever get to New York City.
An Irish Country Christmas by Patrick Taylor
I always enjoy this easy going series, set in a Ballybucklebo, in Northern Ireland in the early 60s. This is the third in the series but not much really happens in any particular book. Delightful!
Wishin' and Hopin' by Wally Lamb
Sweet book that has a bit of a Christmas Story look back at a Christmas in the 50s when the narrator was young.
Dave Cooks the Turkey by Stuart McLean
I bought this short story in a hard cover edition so I could read it every year, but see if you can find an online version (maybe a CBC podcast) with the late great Stuart McLean reading it for the full flavour. I hear Stuart in my head when I read it. Fully hilarious story.
A Child's Christmas in Wales by Dylan Thomas
Short reminiscence of life in Wales. It's a classic for a reason and I'd recommend a read, or a re-read.
The Best Christmas Pageant Ever by Barbara Robinson
A children's story with the meaning of Christmas hidden amongst the funniest story. You will not forget the Herdman's.
Christmas With Anne by LM Montgomery
This is just any short story, or chapter from a novel, with a Christmas connection. Montgomery is excellent at the pathos and the happy ending. Also includes the puffed sleeves episode. Are you watching Anne with an E on Netflix? I highly recommend it for Anne fans everywhere. Extremely well done!
To Everything There is a Season by Alistair MacLeod
Alistair MacLeod is considered on a Canada's greatest short story writers and this one set in Cape Breton is charming. As you grow, you realize a lot more about your family.
A New York Christmas by Anne Perry
Some of these Victorian novellas are better than others, but I like how Perry picks some of her peripheral characters to focus on in these shorter stories. If you've read her Thomas and Charlotte Pitt series, or her Monk series, you will also enjoy these slight mysteries.