Top Five Books of the Year
1. Eleanor Oliphant is Completely Fine
2. A Gentleman in Moscow
3. I'll Be Gone in the Dark
4. Big Little Lies
5. The Ghost Map
31 nonfiction: 127 fiction = 158 books
95 female 60 male; 1 collection of assorted; 1 mother and son;
76 audiobooks 15 ebook 29 library
Best Mystery
To Die But Once - Jacqueline Winspear (Maisie Dobbs)
-excellent return to form for Maisie Dobbs and friends
Honourable Mentions Best Mystery (because I read a lot of mysteries)
A Study in Charlotte - Brittany Calvello
-fun take on Sherlock Holmes
Best Start to a Series
The Dry by Jane Harper (Aaron Falk mysteries)
-I liked it so much I read the second, Force of Nature, and I'm on request for the unreleased next one.
Best End to a Series
The Penderwicks at Last - Jeanne Birdsall
- the kids all grew up in this series
Best Historical Mystery
Hugh de Singleton - 14th century surgeon/PI in England
-I read three in the series this year:
The Unquiet Bones, A Corpse at St Andrew's Chapel, A Trail of Ink
Best Recommended Book
The Golden Boy: A Doctor's Journey with Addiction by Grant Matheson
-recommended by lots of local people
Best Childrens
The One and Only Ivan - Katherine Applegate
Al Capone Does My Shirts - Gennifer Choldenko
Best
Young Adult
The Hate You Give - Angie Thomas
To All the Boys I've Loved Before - Jenny Han
Best Book by a New to Me Author
Big Little Lies by Liane Moriarty
- fabulous audio that I devoured, lots of fun
Favourite Characters
-Eleanor Oliphant and her good friend Raymond, who becomes the catalyst for her change
- the women in Big Little Lies and their friendship
Best Science Fiction/Fantasy
Saga by Brian K Vaughan
- so far I've read 7 of the 9 volumes
Best Historical Fiction
A Gentleman in Moscow - Amor Towles
- worth the hype; I went back and listened to the first half again to catch all the intricate plotting that I missed
Best Book by a Tried and True Author
Beartown by Fredrick Backman (A Man Called Ove)
- another one worth the hype
Best Apocalyptic/Dystopian
The Power - Naomi Alderman
- women get electrical power
Best Short Story Collection
Norse Mythology - Neil Gaiman
Best Short Story
Almost Midnight: Two Festive Short Stories - Rainbow Rowell
Funniest
Canadianity: Tales from the True North Strong and Freezing by Jonathan Torrens and Jeremy Taggett
Most Heartbreaking
Girls Like Us - Gail Giles
Creepiest Novel
The Nest by Kenneth Oppel
- creepy kids book, about bees
Best Debut Book
Eleanor Oliphant is Completely Fine - Gail Honeyman
- my favourite book of the year
Most Unique Book
(lol, I picked two)
Number 11 - Johnathan Coe
- I like the connected stories and characters, and how each story had the number 11 as a significant idea; ending was a bit weird, but the other made it worth while
The Strange Case of the Alchemist's Daughter - Theodora Goss
- all the classic 19th century novel character's daughters mashed up into one story
Best Re-read
The Immortal Life of Henrietta Lacks - Rebecca Skloot
- I listened to the audio on this re-read, and it was as good as been recommended; Cassandra Campbell never disappoints as a narrator
Best Audiobook
(other than my fav books already listed: A Gentleman in Moscow, Eleanor Oliphant, I'll Be Gone in the Dark, and Big Little Lies)
Sing, Unburied Sing - Jesmyn Ward
-hearing the accents and pain of the characters made this better than if I had read it
Best Nonfiction (since I read so many nonfiction this year, I have broken this down a little more)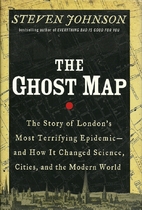 Best Nonfiction: science/history
The Ghost Map: The Story of London's Most Terrifying Epidemic, and How it Changed Science, Cities, and the Modern World - Steven Johnson
- cholera epidemic in London; I'm not even sure how to characterize this book
Best Nonfiction: travel
What the Psychic Told the Pilgrim: A Midlife Misadventure on Spain's Camino de Santiago - Jane Christmas
- made me think about a hike
Best Nonfiction: memoir/autobiography
I Am, I Am, I Am: Seventeen Brushes With Death - Maggie O'Farrell
- I loved O'Farrell's voice and her stories of growing up female
Best Nonfiction: politics
Harry's Last Stand: How the World My Generation Built is Falling Down, and What We Can Do to Save It - Harry Leslie Smith
Best Nonfiction: true crime
I'll Be Gone in the Dark: One Woman's Obsessive Search for the Golden State Killer - Michelle McNamara
- scared the bejeebus out of me late one night; then the Golden State Killer was caught about a month after a finished the book
A few books I loved by couldn't find a category for!
The Vanishing Act of Esme Lennox - Maggie O'Farrell
The Woman Next Door - Yewande
Omosoto
and last but not least...
Crooked Hearts - Lissa Evans
-could have been best historical novel (World War 2)
-could have been most heartbreaking
-could have been favourite characters
-could have been best by a new to me author