Week 5
: (Nov. 26 to 30) –
New to My TBR (Katie @ Doing Dewey):
It's been a month full of amazing nonfiction books! Which ones have made it onto your TBR? Be sure to link back to the original blogger who posted about that book
Ah, the best part of Nonfiction November is getting those recommendations based on other readers. A few of these books were on my radar, but reading about other bloggers opinions makes it an easier decision. A few other books I had never heard of and I was intrigued. Thanks for all the great Nonfiction Sharing and thanks to the hosts for once again running Nonfiction November.
A quick glance at last years New to My TBR post shows I haven't read a single one, so I am not exactly sure how effective these lists are. I have Bad Blood on request at the library, so surely I'll read it sooner than later.
Bad Blood: Secrets and Lies in a Silicon Valley Start Up by John Carreyrou
Educated: a Memoir by Tara Westover
Princesses Behaving Badly: Real Stories from History Without the Fairy-Tale Endings by Linda Rodriguez McRobbie
Any Ordinary Day: What Happens After the Worst Day of Your Life? by Leigh Sales
Blood in the Water: The Attica Prison Uprising of 1971 and Its Legacy Heather Thompson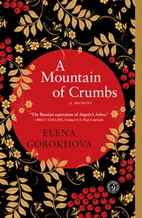 A Mountain of Crumbs by Elena Gorokhova (
Russian memoir)
Any of these books look interesting to you?